Durable and of the highest quality, these sets will compliment and round off your home, and make you the envy of your friends and visitors. Available in a variety of wood types, and sizes, we are able to custom them to your needs!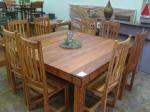 A lovely square smooth top, also suited as an indoor dining table. Set includes 8 hand made classic high back dining chairs, made from Rhodesian Teak. Table Top measurement: 1.6 x 1.6m Table only R6450 Classic High Back hande made T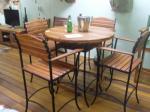 A combination of Steel and Rhodesin Teak. Set includes table (900mm diameter), with bottom rack and four high chairs with foot rest. VERY comfortable!